In 2015, the romantic spring ushered in a happy event - the successful signing of the popular movie star Zhao Liying romantic spring brand image spokesperson!
This is a big joy, can be described as hope. In the previous consumer survey, we found that nearly 60% of the people think that Zhao Liying is the most suitable spokesman for the brand of romantic spring. Because of its sweet looks, fashionable youth, hard work and inspiring career, Spring brand temperament and development status quo.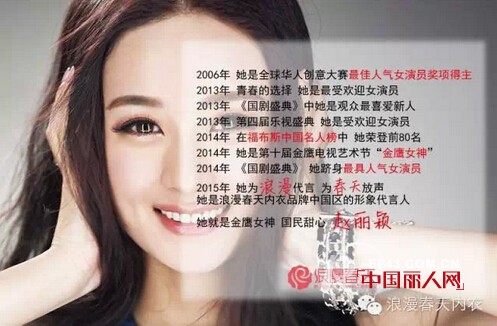 Zhao Liying - she is Variety Elves, interpretation of the achievements of many classic; she is the goddess of the Golden Eagle, and strive to pay de facto; she is the national sweetheart for the romantic spring brand vitality endorsement!
In retrospect of Zhao Liying's fame, she shows her audiences a vivid image of a lively film and television actress. Her performance has made many film and television dramas popular among the public. You know she participated in which ratings burst popularity of television works? Which one of the most beautiful she moved you?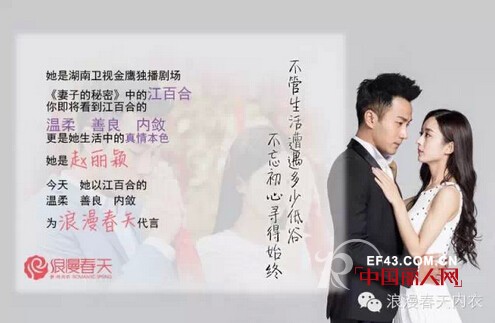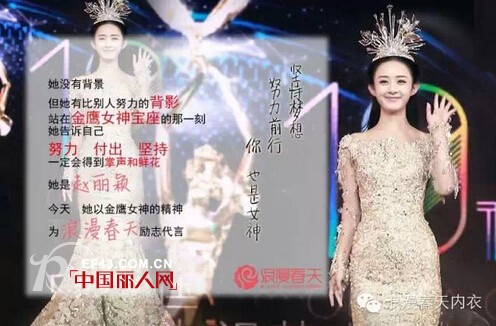 ❤
In 2015, Zhao Liying new drama continues, fiery degree is extraordinary
In 2015, romantic spring innovation and evolution, fast fashion change struck
2015, romantic spring × Zhao Liying, fashion fit, much anticipated!
❤
This is the spring of Zhao goddess, sweet, fashion, vitality, youth
She often interprets a character, will attract a wave of all ages, "Ying fire insects" to join
Every character has fans who show a different Zhao Liying
Her attendance and dedication are reflected in every public appearance
❤
She has no background, some are sweat hard back
This is similar to the growth of romantic spring
Ten years
Romantic spring from the creation to the present well-known brand of underwear
Hardships and honor go hand in hand
❤
In fact, the play outside
Fashionable and honest and stylish Zhao Liying are consistent with the romantic spring temperament
Can be seen from the various findings
Choose Zhao Liying endorsement romantic spring highest voice
Not her, but also who?
❤
Zhao Liying, a romantic spring inspirational endorsement!
Polyethylene Isolation Gown,Yellow Isolation Gown,Reusable Protective Gowns,3 Level Isolation Gown
Jiangsu Yijin Import and Export Trade Co., Ltd , https://www.dailysafecare.com