Pink crystal is powder crystal. Powder crystal, also known as rose crystal, hibiscus stone or rose crystal, a kind of quartz stone, is a famous love gem. The texture of the powder crystal is brittle, and it contains a trace amount of titanium to form a pink color. If it is exposed to sunlight for a long time, it will lose its original delicate color. The common artificial processing method is dyeing. Pure quartz allows UV, visible, and infrared light to pass through a range of wavelengths, with optical, piezoelectric, and electrostrictive properties. Transparency ranges from impervious to translucent to transparent, but very clear and bright natural crystals, which we call starlight powder crystals.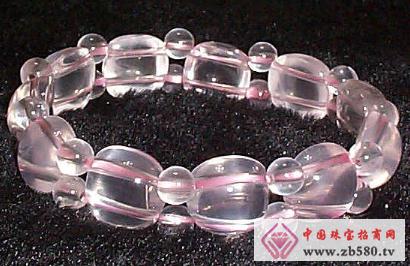 Most can be divided into the following four types:
Traditional powder crystal
The output is large, and the powder crystals are often white with white stone, natural cloud or natural ice crack, and are opaque, and the price is also the cheapest.
Hibiscus powder crystal
Hibiscus crystal is a powder crystal with a slight transparency and a crystal quality and a delicate color. The good hibiscus crystal does not have any white stone pattern, its color is delicate and bright and flexible, and the surface light of the crystal will have a texture like water fullness and even grease.
Ice powder crystal
Ice powder crystals have a high degree of permeability, and are known for their transparency and chilliness. The good-quality ice powder crystals will also carry the natural texture of the powder crystals, while the interior will be less natural. Clouds or natural ice cracks.
Star powder
Starlight powder crystal refers to no stone grain and no cracks. The powder crystal with the transparency and the pink color as the criterion can be seen, and then the three straight lines intersect to form six distinct rays under a single light source. Starlight powder crystals often see the texture of powder white, but if it is too obvious, it will be discounted in visual effects. Therefore, a star-shaped powder crystal with a texture that is not turbid, has a distinct starburst, and can have a clearly distinguishable pink and lustrous luster is a relatively worthwhile purchase.
Perla is a famous brand with its laminated Table Cloths. It is a brand that had been defining the quality standards in the sector and been counterfeited by other firms with its perfect printing quality and unique designs. Perla while being an JIAYUAN brand, is now operating and servicing for its customers on 4 different continents and more than 18 countries. Perla is also a legend that provides new products to its partners and customers by variating 15% of its designs and 62 variations.
Perla is a leading China PVC Tablecloth brand selling all over the world.Holding the course within the leading group of tablecloths.
Perla tablecloths are exported to more than 18 countrys in the world.
Quality of production, Printing techniques, design selection and application easily distinguishes Perla tablecloths than the other brands in the market.
Perla tablecloths can be easily wiped, washed and ironed for re-using.
Perla tablecloths are produced in 20 mt rolls or in sinle packages of different size according to market needs.
Perla dealers in China can be easily found and reached in our web page.
Perla tablecloths also reflect their difference as an integral decoration part of locations used in .
Perla designs are renewed each year, All the latest designs are available on stock and shipped based on orders.
Perla brand and products are exhibited in most prestigious trades hows and fairs all over the world to the interest of purchasers.
Perla Tablecloth,Christmas Tablecloths,April Cornell Tablecloths,Autumn Tablecloths
GuangZhou JiaYuan Houseware Co.,Ltd. , https://www.pvc-tablecloth.com