Why are wigs still popular in modern times?
Although the high-end wig is expensive, the price of a good scalding is not cheap, and the actual effect is also a concern. The wig will save the trouble. And look at the life of the wig -
Reporter Pan Guoping correspondent Feng Yinting Feng Yazhen
Hair commodification
Ancient Egyptian, French, and British hair commodifications have a long history. Because of the influence of Confucianism, Chinese ancients regard haircut as a punishment or insult. The role of hair is only used to give lover, except for human organs. It is generally not used for commodities.
In 1902, the Jiaoji Railway, which was built and operated by the Germans, was partially opened to traffic, and the exported goods were hairy. In the same year, a businessman named Bai Xihe in Xiquandian Village of Xuchang County met with a German businessman who was doing business with Mawei Luodi. The establishment of the establishment of the village, this business is intermittent and passed down.
Known as "black gold"
In the 1980s, due to the economic downturn in Japan and South Korea and rising labor costs, wig production quickly turned to China, and invested and established factories in Shenzhen, Nanhai, Qingdao, and Tianjin, China, and a number of foreign-owned enterprises and joint ventures.
Because there are not any hair products processing enterprises, to provide foreign investors a lot of opportunities to Xuchang area as an example, in 1982, the purchase price per kilogram braided hair only 0.8 yuan, 0.94 yuan in 1983 to 1985, one ton stall can change hair The exchange value is one ton of steel, one ton of grain, 80-100 color TV sets, 2-3 cars, comparable to gold and silver, so it is known as "black gold."
Wigs accumulate in Xuchang
At present, domestic hair products manufacturers are mainly concentrated in Xuchang, Henan, Shandong Jiaozhou Yucheng, Shenzhen, Shenzhen and Tianjin, Anhui Taihe, Hunan Shaoyang and other regions. Xuchang has 77 large-scale enterprises engaged in the production of hair products, employing 300,000 people, and the annual export value is nearly 1.5 billion US dollars. Yucheng County, Heze City, Shandong Province is working hard to build "China's hair capital". The number of human hair enterprises with a certain scale has grown to 95, and nearly 100,000 people are engaged in human hair purchase and sales activities. In just a few years, Taihe County of Anhui Province has developed 65 hair products enterprises, more than 5,800 business households and more than 20,000 employees. The Shaoyang Municipal Government of Hunan Province is also preparing to build a hair products industrial park, and arranges to station 10 enterprises this year, and strive to build a foreign trade export demonstration base within two years. The goods of these bases are interoperable, and some entrepreneurs are also opening factories in many places.
Raw material procurement goes abroad
The hair products enterprises that have stood up have made China a major exporter of raw materials, and have become a major importer of raw materials and a major exporter of finished products. In 1995, Rebecca purchased the hair in India after the inspection. At the same time, many Chinese companies went to foreign countries to purchase raw materials. In 1973, Japan developed a chemical fiber, which relieved the problem of depletion of hair resources to some extent. Japan's Kani Kale, Korean-owned enterprise Jingyuan (Nantong) chemical fiber products currently have distribution channels in Xuchang.
After Rebecca successfully developed the US market, in order to reduce its dependence on the US market, avoid the risks of a single market, and directly establish a "localization" in Africa, it not only enjoys local taxation, employment, etc. More preferential policies, more importantly, can enable the company to rapidly expand sales areas and expand market share. As of the end of 2004, Henan Rebecca Fashion Company had four branches and one factory in Nigeria, and started a brand Noble. At the same time, more than a dozen hair products companies in Xuchang City have set up branches in Nigeria.
Outdoor Bug Wear is one type of our main hot sale products. We are specialized in producing Bug Wear, including Bug Pant, Bug Shocks, bug mitts, bug net tent and so on. Both products of bug wear are use ultra-fine mesh, which is very compact and lightweight. Our company, Valuable Textile Co.,Ltd, which founded in 2016 and producing different kinds of mosquito nets, bug wear and so on. We can also be customized according to your requirements, if necessary, please feel free to contact us!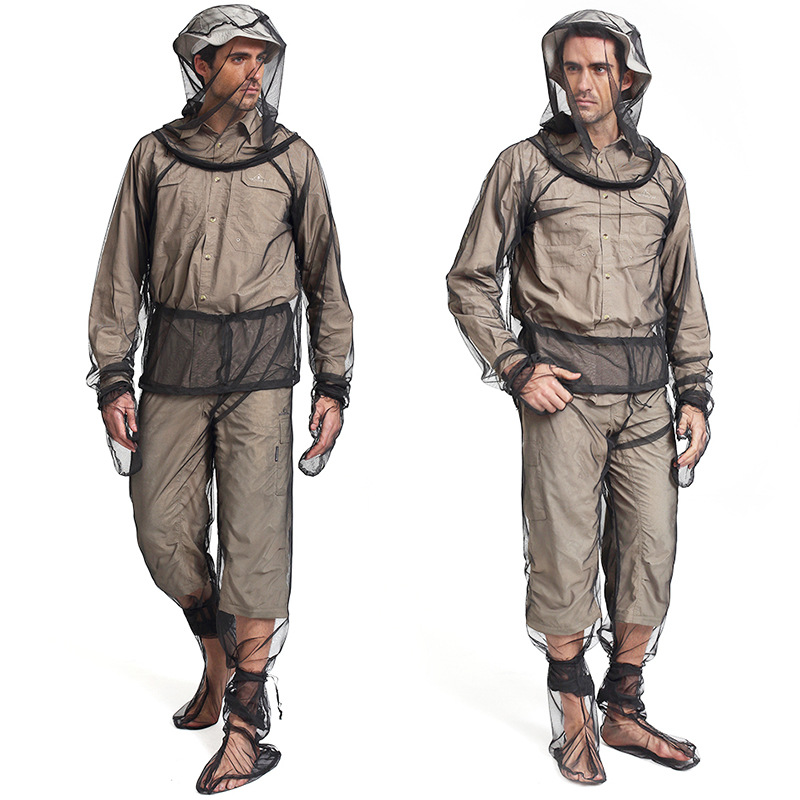 Bug Wear
Bug Wear,Anti Mosquito Wear Jacket,Adult Bug Wear,Outdoor Bug Wear
Valuable Textile Co.,Ltd. , https://www.vbcanopies.com